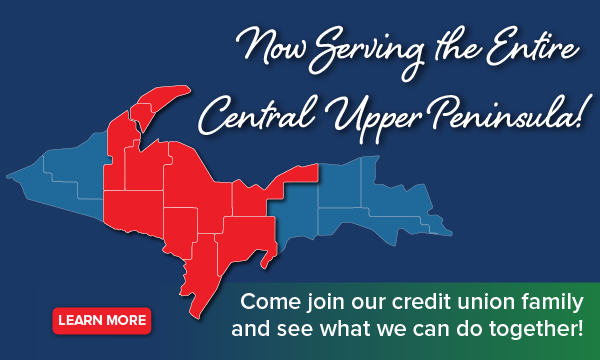 Mission Statement
The mission of your credit union is to foster the financial foundation of our members by providing programs and services that will enhance their ability to successfully meet the demands of today's marketplace in a manner unique to any other available. The uniqueness shall be accomplished through unmatched service and world-class courtesy.
About Credit Unions
Shared Ownership... As a member of Marquette Community Federal Credit Union, you own a "SHARE" in your Credit Union. You vote for your Board of Directors. And, you share in the success of your organization. As a non-profit organization, all Credit Union earnings are returned to members in the form of dividends or other benefits after expenses and legal reserves.
Strong Common Bond... Your Credit Union is a cooperative. Our field of membership includes all people working or living in Marquette County and their immediate families. These are people you work and live near. Friends who share your interest in making the Credit Union their primary financial center.
Brighten Your Future... As an active saver at your Credit Union, you help yourself, your neighbors and co-workers to a future bright with possibilities. When you save, those dollars form a reserve from which you and other members can draw upon when the need arises. That idea of people helping people builds the cooperative spirit that is your credit union. Help yourself and your fellow members to a brighter future... get the savings habit.
Marquette Community Federal Credit Union- Member Owned Since 1952
Go to main navigation